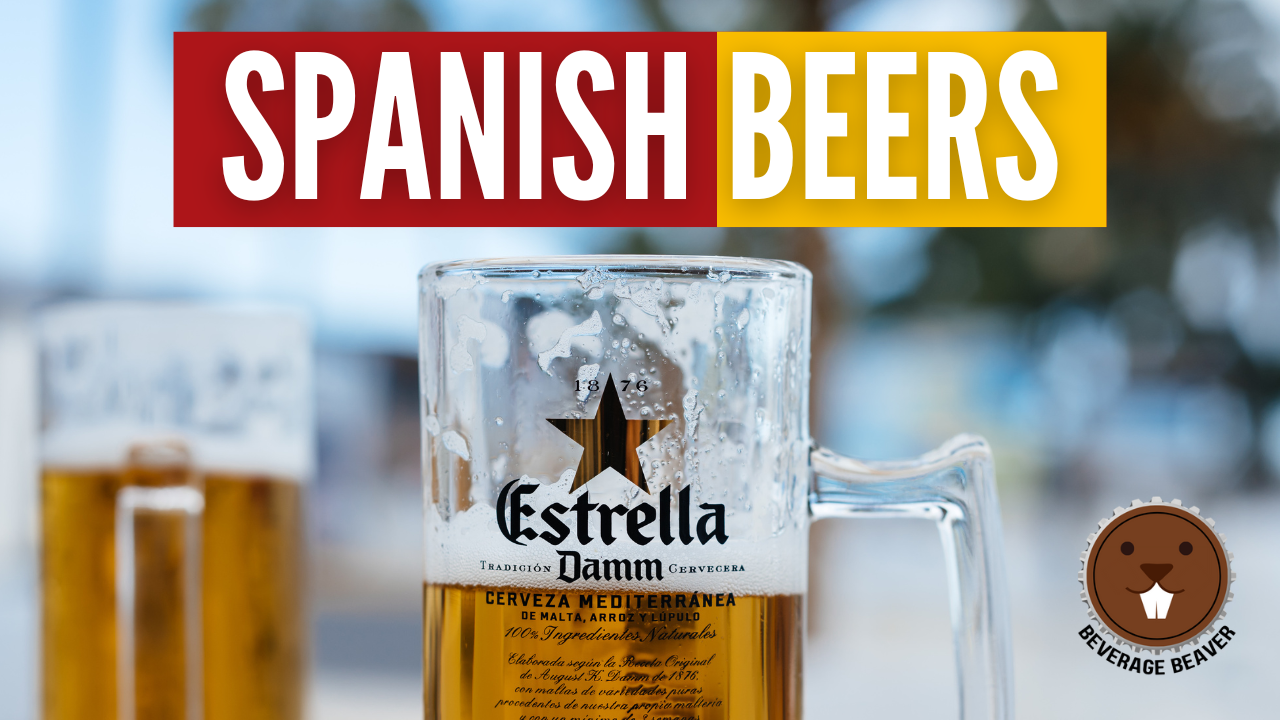 On a recent vacation to Spain, I discovered that besides its rich history, vibrant culture, and delectable cuisine, Spain also boasts a dynamic beer scene. Every Spanish beer I tasted delighted my palate, each harmonizing beautifully with the local climate and dishes. As I relaxed on the beach with a cool cerveza in hand, I felt compelled to write this post, sharing the best Spanish beers you simply must try.
Below, you'll find a curated list of Spanish beers, each accompanied by its alcohol content and a description of its unique taste profile. So, whether you're gearing up for a Spanish adventure and want to know which cerveza to order, or you're a fervent beer aficionado in search of a new Spanish brew, this guide has got you covered.
Best Spanish Beers
Estrella Damm
Estrella Damm is a 4.6% Lager from Barcelona, Spain, that is known for its golden color and crisp, refreshing taste. With an IBU rating typically in the mid-20s, Estrella Damm presents a mildly bitter profile, complemented by a hint of sweetness and a grainy undertone. The taste is characterized by a smooth maltiness, a touch of corn, and a subtle hop finish, making it a favorite for those warm Mediterranean afternoons.
Varieties Of Estrella Damm
Estrella Damm, over the years, has introduced various varieties to cater to the diverse tastes of its audience. Here's a breakdown of some of the most notable varieties of Estrella Damn:
Estrella Damm – This is the flagship beer, a lager brewed following the original 1876 recipe using only barley malt, rice, and hops. It's a light, refreshing beer with a crisp taste.
Estrella Damm Mediterránea – Inspired by the Mediterranean lifestyle, this is a variation of the classic lager with a bit more emphasis on the hop flavor, delivering a smooth and balanced taste.
Estrella Damm Daura – This is Estrella Damm's answer to the increasing demand for gluten-free products. Daura is crafted to remove gluten but retains the flavor profile of the traditional lager. It has won numerous awards as one of the best gluten-free beers available.
Estrella Damm Daura Märzen – A twist on the Daura, this is a double malt beer that results in a stronger flavor and a darker hue, but it remains gluten-free.
Estrella Damm Inedit – Created in collaboration with the renowned chef Ferran Adrià and the team of sommeliers at elBulli, Inedit was designed to pair with a variety of foods. It's a unique blend of lager and wheat beer styles and contains spices like coriander and orange peel.
Estrella Damm Lemon – This is a radler style beer, which is a mix of the classic Estrella Damm lager and Mediterranean lemons. It's a refreshing choice, particularly in the heat of summer.
Estrella Damm Free Damm – Catering to those who enjoy the taste of beer but want to avoid alcohol, Free Damm is Estrella's alcohol-free variant.
Estrella Damm Free Damm Limón – This combines the alcohol-free beer with a splash of lemon, making for a refreshing, tangy, and non-alcoholic treat.
Cruzcampo Beer
Cruzcampo is a 4.8% Lager hailing from Seville, Spain, recognized for its bright yellow hue and delicate, balanced flavor. With an IBU rating often hovering around the low 20s, Cruzcampo offers a gentle bitterness that melds harmoniously with its underlying malty sweetness. The palate is greeted by a blend of light graininess and a soft hop note. Its refreshingly light body gives a crisp mouthfeel, making Cruzcampo a preferred choice for sun-soaked days in the Andalusian heartland.
Varieties Of Cruzcampo Beer
Cruzcampo, like many large breweries, has diversified its range to appeal to various tastes and preferences over the years. Here's an overview of some of the distinct varieties they offer:
Cruzcampo Original – Cruzcampo's flagship beer, the Original, is a 4.8% Lager that presents itself with a clear golden hue. Originating from Seville, its flavor profile boasts a balanced mix of mild bitterness and malt sweetness. Its refreshing taste embodies the spirit of southern Spain.
Cruzcampo Gran Reserva – A stronger variant at 6.4%, Gran Reserva showcases a deeper golden color and a more pronounced malt character. With hints of caramel and a robust body, this beer is designed for those who appreciate a richer lager experience.
Cruzcampo Pilsen – This is Cruzcampo's tribute to the classic Pilsner style. At 4.7%, Cruzcampo Pilsen delivers a more pronounced hop bitterness than its Original counterpart, paired with a crisp and clean finish reminiscent of traditional Pilsners.
Cruzcampo Radler – Merging the crispness of Cruzcampo Lager with the zesty tang of natural lemon, the Radler is a refreshing 2.4% beer. Perfect for those seeking a light and revitalizing drink, especially during the blazing Spanish summers.
Cruzcampo Sin Alcohol – For those who love the taste of beer without the effects of alcohol, Cruzcampo offers its alcohol-free version. Retaining much of the character of the Original but clocking in at less than 0.5% alcohol, this variant provides a guilt-free drinking experience.
Cruzcampo Especial Navidad – A special seasonal release, the Especial Navidad is brewed for the Christmas period. This winter lager has unique flavors and aromas, with a profile that hints at fruits and spices typical of the festive season.
Mahou
Mahou is a prominent and historic beer brand in Spain, particularly known for its pilsner-style lagers. Mahou Cinco Estrellas (Five Stars) is the flagship beer and has an ABV of around 5.1%. It has a crisp and refreshing taste with a balance of malt sweetness and mild hop bitterness.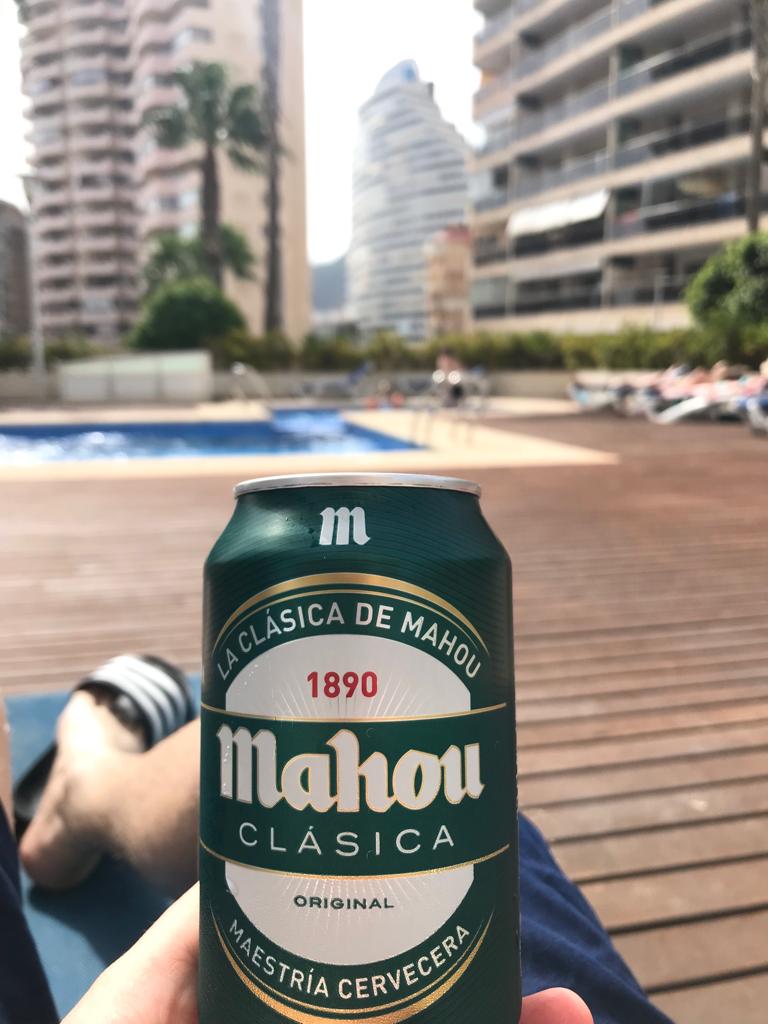 Varieties Of Mahou Beer
Mahou Cinco Estrellas: This is perhaps the most iconic of the Mahou beers. It's a premium lager that's been brewed since 1969. As mentioned previously, it has a golden color and a balanced taste.
Mahou Clásica: This is a lighter lager compared to Cinco Estrellas. It's known for its mild flavor and is very refreshing, making it a popular choice during hot summer months.
Mahou Sin (0,0%): This is Mahou's alcohol-free beer. It provides a good option for those who want to enjoy the taste of beer without the alcohol content.
Mahou Maestra Wheat: This is a wheat beer with a cloudy appearance. It has notes of fruits, especially bananas and citrus, which is typical for wheat beers. It also has hints of coriander and clove.
Mahou Maestra Dunkel: A darker beer that takes inspiration from the Bavarian Dunkels. It has roasted malt flavors with hints of caramel and toffee.
Mahou Maestra Hop: This is a more hop-forward offering, targeting those who prefer a hoppier taste profile. It's characterized by its aromatic intensity and bitter finish.
Mahou Negra: A dark lager with roasted malt flavors, giving it hints of caramel, chocolate, and coffee. It's smooth and has a slightly sweet finish.
Mahou Barrica: This line of beers is aged in different types of barrels, such as bourbon, which imparts additional flavors to the beer. The barrel-aging process gives the beer notes of wood, vanilla, and other characteristics depending on the type of barrel used.
Mahou Limón: A radler-style beer, Mahou Limón is a mix of beer and lemon soda. It's very refreshing and has a lower alcohol content than traditional beers.
Mahou Shandy: Similar to the radler style, Shandy is a blend of beer and lemon, but with different proportions and flavor profiles than the Limón variant.
Mahou Mixta: A shandy made with lemon and lime, it's light and very refreshing.
Mahou Gluten-Free: Catering to those with celiac disease or gluten sensitivity, this beer is made to taste like the classic Mahou but without gluten.
Alhambra Reserva 1925
Alhambra Reserva 1925 is one of the flagship beers of Cervezas Alhambra, a brewery located in Granada, Spain. The name "1925" pays homage to the year the brewery was founded. This Spanish beer is stronger than many standard lagers with an ABV of 6.4%.
Alhambra Reserva 1925 has a deep amber color, almost verging on gold, with a consistent and frothy head. It has a rich, aromatic profile with hints of caramel, toasted malt, and herbal hops. The taste is reminiscent of the aroma, starting with a malty sweetness followed by a balanced bitterness from the hops. There are also notes of ripe fruit, caramel, and a hint of roasted flavors.
Overall, this beer is known for its deep and complex flavors. It's robust, flavorful, and a step away from the lighter lagers, making it a favorite among those who prefer a more intense beer experience.
Alhambra Brewery Varieties
Alhambra Especial: A premium lager with a balanced taste and a golden color. It's lighter in flavor compared to the Reserva 1925.
Alhambra Reserva Roja: A darker beer inspired by the Bock style. It's characterized by a deep reddish-brown color and has a malty flavor profile with hints of caramel, dried fruits, and roasted notes.
Alhambra Sin Alcohol: This is the non-alcoholic version, ideal for those who want to enjoy the taste of beer without the alcohol content.
Alhambra Tradicional: A traditional pale lager with a refreshing and light taste, suitable for everyday consumption.
Alhambra Verde: This is a craft-style beer inspired by the American Pale Ale style. It has a noticeable hoppy aroma and taste.
Alhambra Baltic Porter: As the name suggests, it's inspired by the Baltic Porter style. It's a dark, strong lager with complex flavors of chocolate, roasted malt, and dried fruits.
Alhambra Session IPA: A lighter IPA with fruity and hoppy notes.
Ambar Especial
Ambar Especial is another renowned beer brand from Spain, specifically from Zaragoza. Founded in 1900, La Zaragozana (the company behind Ambar) has been producing Ambar Especial and a variety of other beers for well over a century. With an ABV of 5.2%, this Spanish beer is similar in strength to many European lagers.
Ambar Especial is a clear, golden lager and has a malty, sweet aroma with grainy and hoppy notes. The maltiness of this lager provides a gentle sweetness, which is balanced by a mild hoppy bitterness. Overall, Ambar Especial is a balanced and easy-drinking lager.
Amber Varieties
Ambar Export: A Dortmunder-style beer, stronger with an ABV of 7% and a full-bodied taste.
Ambar 0,0: An alcohol-free beer, perfect for those wanting the taste without the alcohol.
Ambar IPA: A more hop-forward beer, capturing the essence of the popular IPA style with fruity and floral hop aromas.
Ambar Negra: A Munich Dunkel-style beer, dark with roasted malt flavors.
Ambar Gluten-Free: Catering to those with celiac disease or gluten sensitivity, this beer maintains the classic Ambar taste without gluten.
Estrella Galicia Especial
Estrella Galicia is one of the most recognized beer brands from Spain, hailing from the region of Galicia in the northwest part of the country. The main beer of this brand is Estrella Galicia Especial. This Spanish beer has an ABV of 5.5%, making it a similar strength to other Spanish lagers. It has a bright and clear golden color and a sweet and malty taste with a light hop bitterness. Overall, this lager is well-rounded and easy to drink.
Estrella Galicia Varieties
Estrella Galicia 0,0: An alcohol-free version of their main beer, catering to those who prefer non-alcoholic beverages.
1906 Reserva Especial: A stronger lager with an ABV of around 6.5%, this beer offers a more robust flavor profile with caramel and toasted malt notes.
1906 Red Vintage: This beer leans towards the malt-forward side with roasted malt flavors and hints of chocolate and coffee.
1906 Black Coupage: A dark lager with more intense flavors of roasted malt and licorice.
Estrella Galicia Cerveza de Bodega: A special edition beer that replicates the traditional way of consuming beer directly from the barrel.
Moritz
Moritz is one of the iconic beer brands originating from Catalonia, Spain. The brand's history stretches back to the mid-19th century, making it one of the oldest in the country. Moritz is a pilsner style lager with an ABV of 5.4%. This Spanish beer has a light, malty, and grainy aroma with hints of fresh hops. It has a crisp and clean taste with a balanced malt sweetness and a soft bitterness from the Saaz hops. Overall, this beer is refreshing, easy to drink, and well-suited for warm climates.
Moritz Varieties
Moritz Epidor: A stronger lager compared to the classic Moritz. It has an ABV of around 7.2% and presents a richer malt profile with caramel notes. It's fuller-bodied and has a more pronounced flavor.
Moritz Red IPA: As the name suggests, this is Moritz's take on the Red IPA style. It combines malt richness with the aromatic and bitter qualities of hops.
Moritz Aigua de Moritz: This is their alcohol-free beer offering, catering to those who want the taste without the alcohol.
Moritz 0,0%: Another non-alcoholic beer with a balanced and refreshing flavor, closely mimicking the classic Moritz lager.
Voll-Damm
Voll-Damm is a standout product from the Damm Brewery, the same esteemed Barcelona-based company behind the renowned Estrella Damm. Introduced in the mid-20th century, Voll-Damm is labeled as a Märzenbier, a style traditionally associated with Bavarian beers brewed in March and left to mature until the autumn festivals.
Distinct from the lighter lagers, Voll-Damm boasts a robust character with an ABV of around 7.2%, making it one of the stronger lagers in the mainstream Spanish market. Voll-Damm's taste is marked by an intense malt presence, complemented by a moderate hop bitterness, which gives it a balanced profile despite its strength. The beer's International Bitterness Units (IBU) rating leans higher than lighter lagers, hovering around the 30-35 range. This ensures that the heightened malt sweetness from the increased alcohol doesn't overpower the beer's overall flavor.
Spanish Beers FAQ
What is the difference between red and green Mahou?
Mahou Classica (green) and Mahou Cinco Estrellas (red) are flagship lagers from Spain's renowned Mahou-San Miguel Group. Mahou Classica is characterized by its mild, smooth taste with a light bitterness and an alcohol content of around 4.8% ABV, making it a preferred choice for everyday occasions.
On the other hand, Mahou Cinco Estrellas, translating to "Five Stars", stands out with its fuller flavor that hints at fruitiness and malt, accompanied by a slightly higher alcohol content of approximately 5.5% ABV. Marketed as a premium option, Cinco Estrellas contrasts with Classica's everyday appeal, though both beers cater to the varied tastes of lager enthusiasts.
What does "Sin Alcohol" mean in Spanish?
"Sin Alcohol" in Spanish means "Without Alcohol" or "Non-Alcoholic" in English. You would commonly see this expression on the labels of beverages, particularly beer or other drinks that typically contain alcohol, to indicate that the product is a non-alcoholic version. So, if you're looking at a bottle of beer in Spain (or a Spanish-speaking country) and it says "Sin Alcohol," it means that the beer is non-alcoholic.
What does 'Estrella' mean?
"Estrella" in Spanish means "star" in English. The term "Estrella" can be found in the branding of several Spanish beers, including Estrella Damm, Estrella Galicia, Estrella Levante, and Estrella de Madrid.
Is Madri Beer Spanish?
Despite the name implying a relation to Madrid in Spain, Madri beer is not Spanish. It was created by the same company behind Coors Light, Blue Moon, and Carling, and is brewed entirely in the UK. Although not from Spain, Madri is inspired by Spanish beer and is produced in conjunction with the Spanish brewery La Sagra.