Heineken is one of these brands that's sold all over the world. Their green bottles are recognized by many, and their product line-up is so simple (original, light, zero) that everybody can understand it. However, many people also stumble upon one of their least known products: the Heineken mini-keg. One of the first things you want to know is how many beers this keg has. We've got you covered:
A Heineken mini-keg holds 169.07 ounces which means you can get 10.57 16oz beers or 14.09 12oz beers out of it.
However, that certainly doesn't tell the whole story. Below, we've also calculated if these mini-kegs are a good deal or not or if you're better off buying another Heineken product. Furthermore, we'll explain some important things you should be aware of when purchasing one of these kegs, and we'll compare the Heineken mini-keg to other kegs in the markets. Read on!
Do Heineken Mini-Kegs Save Money?
One of the main questions people have when buying a Dutch-made Heineken mini-keg is if the mini-keg is a cost-effective solution to purchasing beer. To know this, we don't only need to know how many beers are in a mini-keg. We also need to know the price.
Below, I've posted a screenshot of five retailers that sell Heineken mini-kegs. On average, they charge a price of $17,99 per mini-keg. A quick calculation tells us that you pay $1.28 for a 12oz glass and $1.70 for a 16oz glass.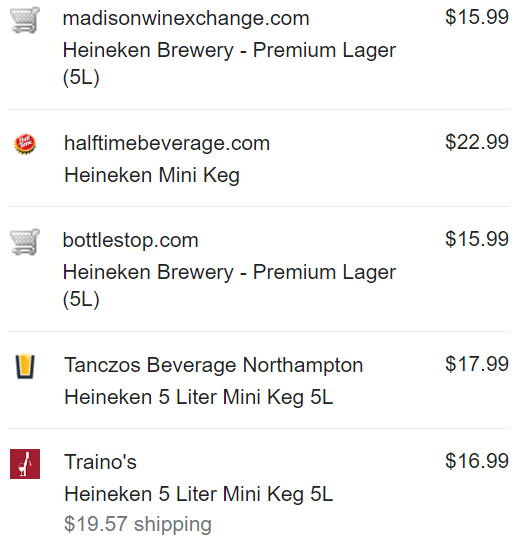 Besides a mini-keg, it's of course also possible to buy Heineken in a six-pack. At Walmart, you can buy a Heineken six-pack (bottles) for $9.27. This gives you six beers with 12oz each. So, in this case, a 12oz beer costs $1.55 each, which is more expensive than a 12oz beer from a mini-keg (this means Heineken will get you drunk for a price of $7.75). Even though six-packs aren't sold as 16oz, a quick calculation tells us that at this rate, 16oz costs you $2.06, which is more expensive than the mini-keg.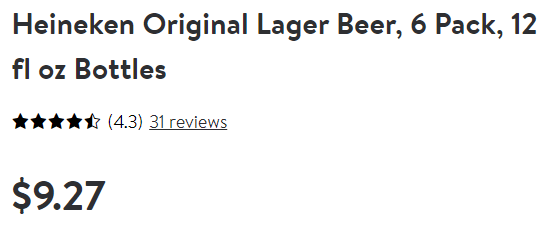 That brings us to the question of whether there are indeed alternatives to a mini-keg that have more value for their money. To compare this, we went to Walmart and checked a 12, 18, and 24-pack and calculated the price for 12oz and 16oz of these beers. The prices were as follows for the total pack:
12-pack: $14,73
18-pack: $21.73
24-pack: $29.48
After running some calculations were able to create the table shown below. What we see here is that both the 12/18/24-pack deliver more value for their money than the mini-keg does (if you like the taste of Heineken, of course). In other words, from a financial perspective, it's better to buy one of these packs than a mini-keg. Furthermore, the six-pack is the most expensive option.
How Long Do Heineken Mini-Kegs Last
Now that we know if the mini-keg is a good deal or not, we also have to know if the mini-keg can last you a while. First, the good news: unopened Heineken mini-kegs can last nine months which is about as much as any other beer in a bottle or can last you.
However, opened Heineken mini-kegs (once already been tapped) have an expiration date of 30 days. So, even though they look ideal for parties, it can still mean you end up with 3/4 of a mini-keg of Heineken that needs to be drunk in the next 30 days. Again, we would say an 18-pack or 24-pack is most likely your better option for the international pale lager that Heineken is.
Can You Refill A Heineken Mini-Keg?
At this point, it seems the Heineken mini-keg only exists because it has a 'cool'-factor. One final question we have in this case is if you're at least able to reuse the mini-keg after it has been used. This would mean you can bring it out at parties more often.
Unfortunately, Heineken mini-kegs aren't reusable by themselves, and you'll have to modify them on a DIY basis to be able to refill them.
Is A Heineken Mini-Keg Better Than Other Mini-Kegs?
Finally, it's a good idea to compare a Heineken mini-keg with other brands of Heineken. Especially if you have your mind set on one of these kegs, this can be a good comparison.
What we found, ironically, is that, even though Heineken mini-kegs don't offer much value compared to their alternatives, they are the most budget-friendly mini-keg that's currently on the market. Compared to the competition, only the DAB Original Lager, Coors Light, and the Warsteiner Premium have a similar value. However, Heineken is still 14-15 dollar cents cheaper per 12 oz glass of 142 calories.
This is most likely also because the other beers aren't regular lagers and therefore have a more premium price, to begin with. But still, if you are dead-set on a mini-keg, the Heineken one is the way to go. Otherwise, buy a 12, 18, or 24-pack of Heineken.
READ NEXT