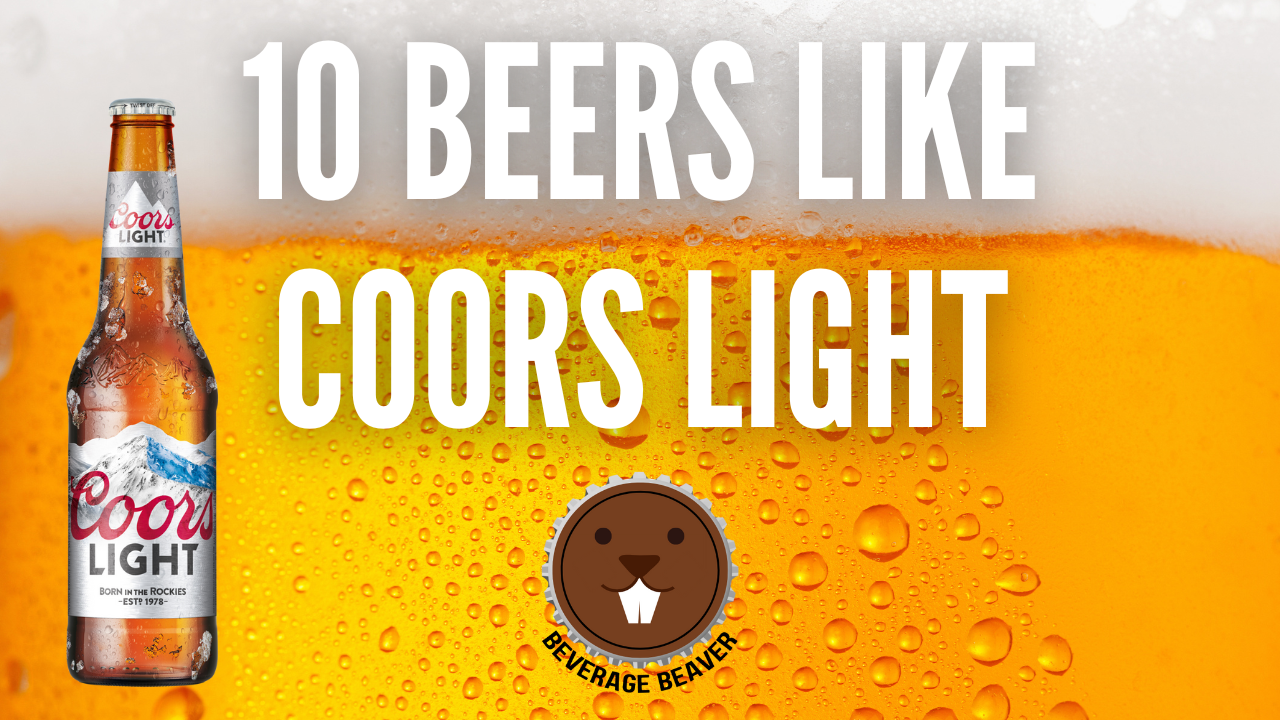 Coors light is an American light lager. These are mass-produced, generally light tasting, and high in carbonation. They probably have the least amount of flavor out of all available beer. They aren't supposed to have many complex flavors; they're used as a refreshing drink, designed to be drunk very cold. 
Luckily, the fact that they are mass-produced makes there are quite a few options with similar flavors. Below you'll find 10 options if you're looking for a beer like Coors Light. 
What Does Coors Light Taste Like? 
For Coors Light specifically, there is a subtle sweetness with a hint of bitterness. This beer, too, has high carbonation and a light color. It smells slightly of grain but otherwise has no aroma. Coors Light is known for not having the same dryness that other light beers might have. 
Overall, Coors Light is an inoffensive, easy-to-drink beer. 
The brand is owned by MolsonCoors and brewed in Golden, Colorado. The ingredients used are relatively standard for light beers; Water, barley malt, corn syrup, yeast, hops, and barley malt. What exact hops and barley they use is unknown to the public. 
In terms of number, Coors Light has an ABV of 4.2%, 102 calories with 5g carbs per 12 fl. oz, 10 IBUs and an SRM of 2. 
Luckily, as American Light Lagers are generally mass-produced, it is relatively easy to find alternatives.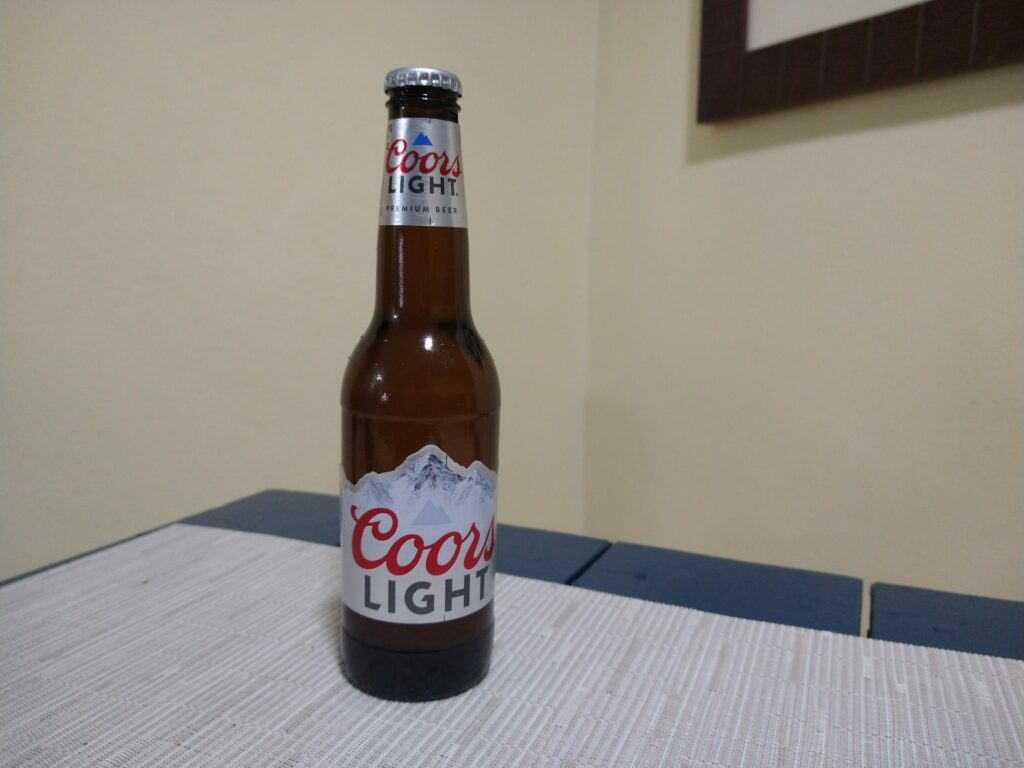 1. Keystone Light
The first beer on our list is sometimes referred to as a watered-down Coors Light. Unsurprising, since both a produced by MolsonCoors. 
This beer was initially launced in Chico, California in 1989. It is filtered three times, which means it is ultra light. Some find this results in beer flavored water, whereas Keystone Light calls it the smoothest of smooth. Whichever is true, Keystone Light is crisp with an inoffensive flavor. It tastes mostly of corn, but there are not other flavor notes. 
This beer has 101 calories per 12 fl. oz, which is one less than Coors Light. It also has 4.1% ABV, which is 0.1% lower. The SRM for both beers are the same, at 2, but Keystone Light has less IBUs; only 6.8 compared to Coors Lights 10. It also has 0.3 grams fewer carbs. 
2. Bud Light
No list about light beers is complete without the US' best-selling beer. Owend by Anheuser-Busch, Bud Light is a beer that most Americans will have tried at one point or the other. 
It has similar ingredients to Coors Light, apart from the fact that Bud Light uses rice instead of corn syrup. This ends up not making much of a difference in both flavor, as well as sugar content; both are used as a simple sugar for the yeast to eat during fermentation. None of it is left in the beer. 
In terms of flavor, Bud Light is more hoppy with the aftertaste of grains. Other than that, there are no complex flavors. 
The SRM for both beers are the same, around 2, which means they are very pale golden in color. Per can, Bud Light has 110 calories, which is just 8 calories more than Coors Light. The ABV for both is the same (4.2%), although Bud Light has 1.6 grams more carbs. 
3. Michelob Ultra
Next is another Anheuser-Busch owned brand. Made with barley, rice, hops and water, this beer was introduced in 2002 to appeal to the health conscious beer drinker. 
As a result, it is not surprising they have lowest ABV (4.2%), carbs (2.6g) and, calories (95). In addition to this, they also have three additional varieties of Michelob Ultra; amber max (gluten free), pure gold (organic), infusions (fruit flavored)
The SRM and IBUs are the same as Coors Light however; 2 and 10 respectively.
In terms of flavor, you'll taste some grains and a subtle hint of citrus. Again, no complex taste or aroma, but really just a refreshing beer with a light body and medium carbonation. 
4. Miller Lite
Going back to MolsonCoors-owned brands, we have Miller Lite. This was the first light beer that was successful in the US. It was first launched in 1967 and uses water, barley malt, corn syrup, yeast, hops, and hops extract. 
The result is a beer with a slightly more malty taste than Coors Light along, with a more pronounced hop aroma. However, the aftertaste is similarly sweet. Overall, this is another beer that does exactly what it says; light-bodied, highly carbonated, crisp and refreshing. 
Still, it has some slightly more complicated flavor notes, which is why some refer to it as a more sophisticated Coors Light. 
It has an ABV of 4.2%, 96 calories, 3 grams of carbs and 10 IBUs. 
5. Amstel Light
Whereas Coors Light is generally known to be a little sweeter than other light lagers, Amstel Light is a little more bitter. This is also reflected in its IBUs;  18.
This makes it even more important that this beer is drunk ice cold, so it's not as skunky. If you do, you'll taste notes of grains as well as some subtle hops. 
It was first introduced in 1980 when Amstel merged with Heineken. Interestingly, this is the only beer made by Amstel that is available in the US. The reason for this is that Heineken does not want to cannibalize on its market share by adding another light beer into the competition. Still, even without the American market, Amstel was the seventh largest beer brand in the world in 2016. 
In terms of numbers, Amstel Light is a better optioin than Coors Light; there are 95 calories and 5 g carbs per 12 fl. oz, as well as an ABV of 3.5% ABV.
6. Yuengling Light
Moving from mass-produced beers, let's have a look at what the craft market offers us. Yuengling Light is certainly more flavorful than other light lagers, but is still a lot lighter in flavor, aroma and body than their original lager. 
You'll find Yuengling Light has a caramelly flavor and is quite malty, with a light hops finish. Because it's not as bitter as the previous beer, it is entirely drinkable even when it has warmed up slightly. 
This beer has 99 calories per 12 fl. oz, with 3.2 grams of carbs. It has an ABV of 4.3%, alogn with 15 IBUs. 
7. Busch Light
Back to the Anheuser-Busch company, we have Busch Light. This is probably one of the ligthest tasting light beers that you can find. It pours a very light color that smells slightly of corn and some citrus. Other than that, most report it tastes like water. Again, it is really important that Busch Light is drunk as cold as you can make it, to avoid an unpleasant, bitter aftertaste. 
It is brewed with water, barley, rice, and hops (both American and imported), and has 95 calories per 12 fl. oz, with an ABV of 4.1%. Per can, this beer has 3.2 grams of carbs. These are all very similar to Coors Light. 
8. Grain Belt Premium Light American Lager
Grain Belt's light lager is a great option for those who would like a little more flavor in their beer, but want to avoid the calories. The Premium Light Lager is still a very crisp lager, but has more of a bitterness as a result of the hops. It has a sweet aroma with some notes of malt. Still, it's an inoffensive and easy to drink lager.  
This craft beer is brewed by August Schell Brewing Company  in Minnesota, United States, which is the second oldest family run brewery in the country. The first is also on this list; Yuengling. 
This beer has an ABV of 3.9%, along with 95 calories per 12. fl. oz. 
9. Heineken Light
Initially introduced in 2005 in Phoenix, Providence, Tampa, and Dallas. About a year later, it was launched in the entirety of the US and sold 68 milion litres in its first year. 
Heineken is known for its dry and relatively bitter taste, which some love and others hate. If you do enjoy it, but are looking to avoid the calories, Heineken Light is a good option. It has the same flavor but is just less strong. 
This light beer has one of the lowest ABV's on our list; only 3.3%. There are 99 calories and 6.8 grams of carbs per 12 fl. oz. 
10. Beck's Premier Light
Lastly on our list, is this German beer. It is brewed in Bremen, and while the name might not ring a bell, it is a subsidiary of AB InBev. 
Whilst most light beers don't have any addtional flavor notes, Beck's is slgihtly fruity, whilst still having the expected beer flavor. Other than that, it is crisp with a dry finish. 
This beer also has the lowest ABV on our list; 2.3%. There are 64 calories per 12 fl. oz, which is really low even for light beer, with 3.9 grams of carbs.  
Sources: 
READ NEXT