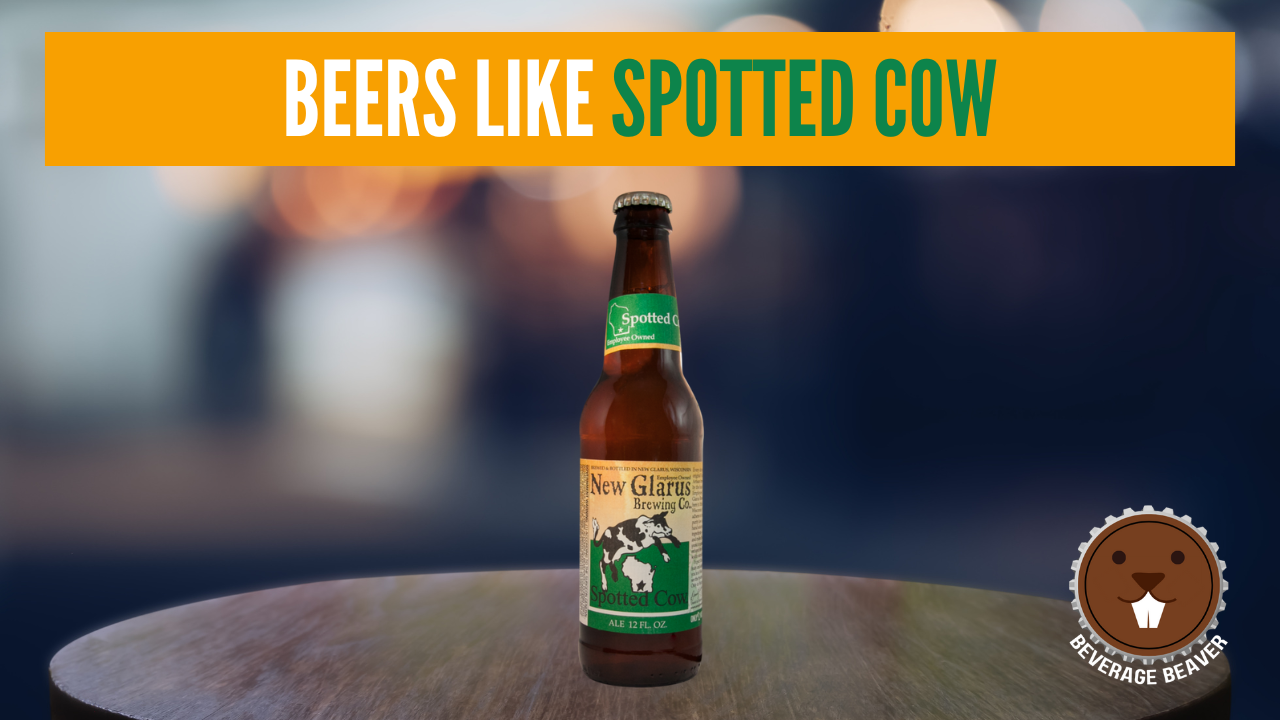 Anyone who's ever drunk Spotted Cow knows that this farm ale is a special one. This farm ale is an interesting one, that cannot really be reproduced. Besides, it is only sold in Wisconsin, so if you're not from there you're out of luck. 
Still, below you'll find 10 beers similar spotted cow, even if the taste cannot exactly be reproduced. 
What Does New Glarus Spotted Cow Taste Like?
Spotted Cow, brewed by New Glarus is a farmhouse ale. The brewer describes the taste as "Fun, Fruity and Satisfying". It has notes of orange, apricot, peach and banana, and is slightly sweet. There is also a sourness at the end. 
To make their brew, New Glarus uses only four ingredients: water, hops, yeast and malted barley. 
As mentioned, Spotted Cow really is unique in taste, making it difficult to find beers that come close to it. The best options would either be cream ales or other farmhouse ales. 
Cream ales are light in color and very crisp. They only have four ingredients, just like Spotted Cow, meaning the flavor profile isn't overly complex, and a hoppy aroma. 
Farmhouse ales, on the other hand, are often bottle conditioned, meaning some of the yeast is left in the beer when bottled, leaving you with a cloudy beer that tastes quite yeasty and fruity.  
If you're looking for the closest replica, go with number 1 on our list. If you're willing to venture out into the world of cream ales and experiment a little, we've given you another 9 similar options. 
1. Sixpoint's Apollo Summer Wheat
The beer that comes closest to Spotted Cow's flavor is made by Sixpoint. Their Summer Wheat is, as the name suggests, a wheat ale. 
It is made with a 50/50 mix of barley and wheat malt, as well as German hops, leaving you with a hoppy aroma and crisp taste. This beer has a light body and a citrussy finish. Other flavor notes are banana and clove, as a result of the yeast strain used. Additionally, it has the same cloudy appearance as spotted cow. 
Brewed in Brooklyn, New York, this beer is only available from April to September. 
Apollo Summer Wheat has 5.2% ABV and 13 IBUs. 
2. Cali Creamin 
This is a vanilla cream ale, brewed by Mother Earth Brew Co. in San Diego. It is their flagship beer, and also one of their most popular beers ever. 
It has a malty taste as the result of the use of flaked corn and a subtle sweetness. There are, as the name suggests, also clear notes of vanilla. Overall, this is a medium bodied beer that is great any time of the year. 
If you're looking for an even creamier experience, pick up some of their nitro version. This beer is carbonated using nitrogen instead of CO2, leaving smaller bubbles and a creamier mouthfeel.
It isn't available in all states unfortunately, but it is easier to find to Spotted Cow. You can find Cali Creamin in 20 states, as well as the UK, Australia and Mexico. 
This ale has 5% ABV and 20 IBUs. 
3. Genesee Cream Ale
Next is a beer that was first brewed in 1960 and has since won several awards, including gold at the 1990 and 1991 Great American Beer Festival, as well as multiple silver and bronze medals in the years after. 
Also known as Genny (pronounced Jenny) Cream or Genesee, this is another cream ale that is slightly sweet  and has heavy carbonation. It has a clear appearance. Overall, its a very drinkable, smooth and crisp ale. It's not overly strong in flavor or aroma. 
Over time, it has gained a passionate following, not only for its taste, but also for its reasonable price. 
This ale has 5.1% ABV and 9 IBUs. 
4. Little Kings Cream Ale (Hudepohl)
Little Kings is a beer with an interesting story; they sell their beers in a small, 7-ounce bottle, rather than the standard sized 12 fl. ounce one. This was done, intially, out of necessity when the fridge broke down at the Montgomery Inn. The 7-ounce bottle was the perfect amount to drink whilst still cold. 
Hudpohl-Schoenling Brewing Co.'s cream ale has a subtle sweetness, and not a very bitter or hoppy flavor. Instead, it is more biscuity, with a hint of vanilla. 
This beer has an ABV of 5.5%.
5. Anderson Valley Summer Solstice Cerveza Crema
This beer is referred to as Summer In A Can by the Anderson Vally. It is brewed in California and uses Chinook hops, as well as pale two-row and Crystal malts. 
This is is a subtly sweet and malty al, with a strong aroma. There are notes or caramel, as well as a hint of spice. It has a creamy moutfeel. 
Anderson Valley uses dark roasted barley for this Summer Solstice, which means the color of this ale is darker too, and it has a stronger malt flavor. Still, it is very drinkable, as there isn't a strong flavor of hops. 
It has an ABV of 5% and 6 IBUs. 
Unfortunately, it is only available from April to August, so make sure you stock up then. 
6. Sleeman Cream Ale
Number six on our list is another cream ale, but this time brewed outside of the US. This beer is brewed in Ontario, Canada and is easy drinking in nature. Still, it is defenitely an ale, rather than a lager, as it has some strong fruit notes coming through, mostly of apple and pear. 
Apart from this, Sleeman uses corn in this ale, making it taste a little lighter and corny. Still the hops are still tastable, which is unsurprising, as they use a blend of 5 different imported hops. It is light golden in color with strong carbonation. 
This ale has an ABV of 5.0%. 
7. Urban Growler Cowbell Cream Ale
Urban Growler's Cowbell Cream Ale is a little sweeter than the other ales on this list, and doesn't have any bitterness. The founder calls it a transitional beer; one for those who are new to the world of craft beer, but still want to try one. As a result, it is a light and crisp beer that isn't too sweet. The color is light golden, with a creamy mouthfeel.  In this ale, you'll find tasting notes of corn, bread, biscuit and lemon grass. It has an ABV of 5.2%, with 20 IBUs. 
8. Milwaukee Brewing Outboard
Outboard is a cream ale that has been made since 1997, and is brewed in Wisconsin, US. It is brewed with both malted barly and corn, which results in a lighter body and flavor, along with a pale golden color that is slightly hazy. There is a hint of hops, but this is definitely not overpowering. 
The ingredients for this beer include Bravo/Saaz hops, and pilsner, two-row and corn malts. There are 13 IBUs, along with 5% ABV. If you find you enjoy this beer, you're in luck; its available year round.
9. Pelican Pub & Brewery Kiwanda Cream Ale
Inspired by one of the US traditional styles of beer, this brewery was one of the first to re-create the cream ale. It was first brewed in Pacific City in 1996, under the watchful eye of brewmaster Darron Welch. Ever since, he has received eight medals at the Great American Beer Fest. 
The brewery uses two-row malt, flaked barley, Mt. hood hops, dextrin malt, pure ale yeast and water. This results in a golden colored beer with a floral aroma that has a crisp finish. 
Ever since its launched this beer has been loved, and it has since received 55 medales. Most recently, a gold at the 20022 World Beer Cup was added. 
This ales has an ABV of 5.4%, along with 25 IBUs. 
10. Neshaminy Creek Better Maize Ahead
Last on our list is Better Maize Ahead, by Neshaminy Creek Brewing Company. Located in Pennsylvania, US, this brewery makes their ale with flaked maize and Hallertau hops, that create a light body with a floral aroma. It is slightly sweet, which isn't overpowering. There are also some fruit tasting notes, but mostly this is a very corny beer. It has a more dry and bitter finish than most rews on this list. 
Better Maize Ahead has an ABV of 4.9%, as well as 13 IBUs. 
Sources:
READ NEXT