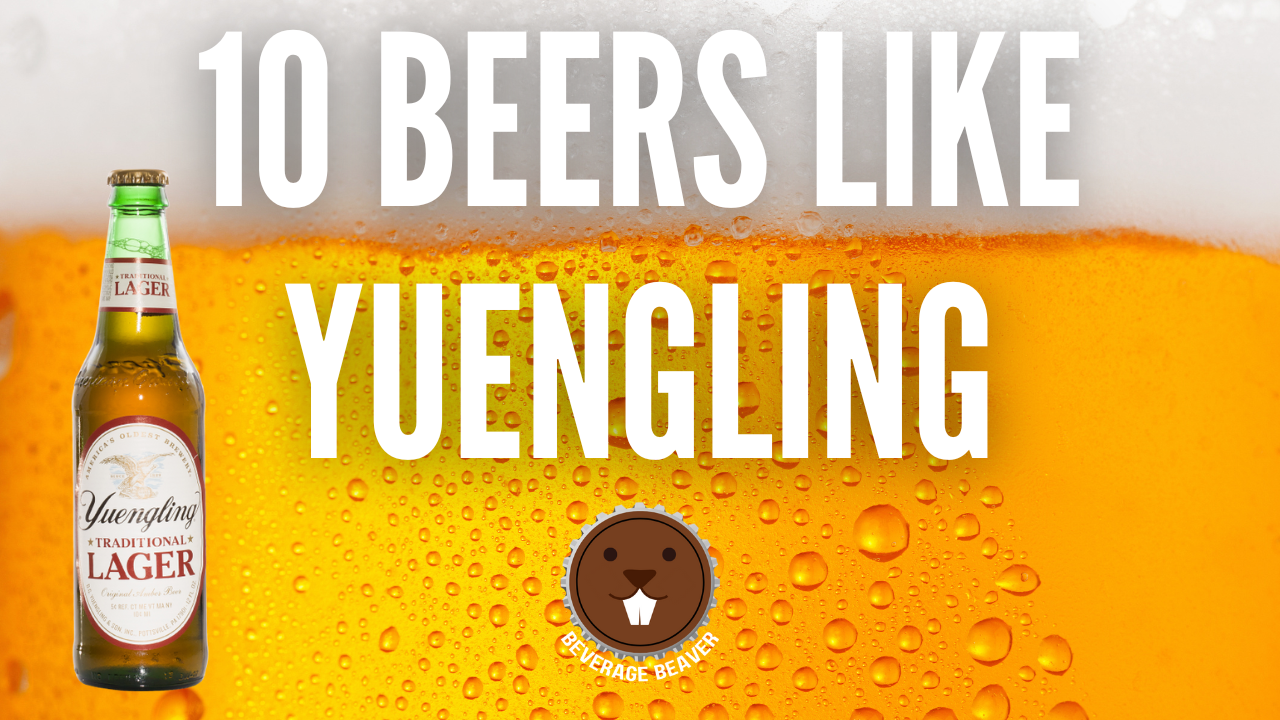 Yuengling is a traditional craft brewery, mostly known for its Traditional Lager. In fact, this amber lager contributes to about 80% of the brewery's sales. Clearly, it is one that many people enjoy. If you're a part of this group but don't live in a state where Yuengling is sold, or you're looking to branch out a little, we've got you covered. 
Below, you'll find 10 beers similar to Yuengling, some with the same flavors and some with some added or different flavor notes, if you're ready to experiment a little. Apart from the flavor, we'll also have a look at the ABV, IBUs, calories, and more. 
What Does Yuengling Traditional Lager taste like? 
Yuengling Traditional Lager is an amber lager known not only for its distinct color but also for the stronger malt and hops flavor in comparison to other American lagers. This beer is medium-bodied and, although it has some stronger flavors, is still appreciated for its drinkability and clear appearance. 
Apart from its malty and hoppy flavor, you'll also find there is a slight caramel aroma and sweetness to this beer. Though the exact ingredients aren't known to the public, Yuengling does mention that they use caramel malts, cascade and cluster hops, and corn grits in this beer. 
Additionally, the Traditional Lager has 128 calories per 12 fl. oz, an ABV of 4.5%, and 12 IBUs. 
Now, let's have a look at some comparable beers. 
Beers Like Yuengling
1. Shiner Bock 
Shiner Bock is the beer to drink if you're looking for something as close to Yuengling Traditional Lager as possible. It is brewed in Shiner, Texas, hence the name, and has notes of caramel, along with some dark fruit and some hop bitterness. Although it is less sweet than Yuengling's amber lager, it is very similar in taste.   
Keep in mind that the fact that this is an American dark lager, which means it is darker in color and a little stronger in taste. 
The numbers are also very similar to Yuengling's Traditional Lager. Shiner Bock has an ABV of 4.4%, 13 IBUs, and 142 calories per 12 fl. oz. 
Although it was originally a seasonal beer, it is now available year-round and has won multiple awards, including gold at the 2020 European Beer Star Awards and Silver at both the 2018 and 2019 Australian International Beer Awards. 
2. Negra Modelo
Although this beer is brewed in Mexico, it is actually German in style. This Munich Dunkel Lager is malty and has a deeper, more complex flavor. Still, it is a balanced beer with some very slight fruit flavors, along with a bready and nutty aroma, as is expected from this style.
Keep in mind that Negra Modelo isn't sweet, which means it is unlikely to be a beer that you'd drink several of. Still, it is the number one beer sold in Mexico, which means it is definitely worth trying. 
Additionally, this beer has an ABV of 5.4%, which is slightly higher than Yuengling, as well as 19 IBUs and 173 calories per 12 fl. oz. 
3. Bohemia Obscura
Next up, is a Vienna lager, which are very similar to amber lagers. Technically, amber lagers are a variation of Vienna lagers, except the latter are less dry and more hoppy. 
This particular beer uses Stryan hops from the Czech Republic and has a strong, bitter taste. There are also notes of apple and bread, in addition to the caramel notes as the result of roasted barley. 
It is medium to light-bodied, just like Yuengling is, and has a similar sweetness to it. The aroma, though, is a little less strong. If you've already tried the previous beer on this list, Negra Modelo; Bohemia Obscura tastes similar but isn't as bold in flavor.
In terms of numbers, Bohemia Obscura has an ABV of 4.9%, 14 IBUs and 168 calories per 12 fl. oz. 
4. Thomas Creek Appalachian Amber
Thomas Creek Appalachian Amber is, as the name suggests, an amber lager. It is brewed in Greenville, SC, and has a similar flavor profile and sweetness as Yuengling's Traditional Lager, except without the same grainy aftertaste. 
Even though this beer has a high ABV of 6.8%, it is surprisingly smooth. There are 210 calories in this beer, and it has 39 IBUs, both significantly higher than Yuengling. 
If you're not convinced to try this amber lager yet, it has won multiple awards, including silver in the 2008 and gold in the 2006 Carolinas Championship of Beers. 
5. Brooklyn Lager
Number 5 on our list is Brooklyn Lager, which is also an American Amber lager, just like Yuengling. This beer has an ABV of 5.4% and 33 IBU's. 
What is particularly interesting about this lager is the fact that they use a technique called dry hopping. In this process, the hop is added to the beer long after fermentation has begun. This preserves the hops' oils, resulting in a beer with a fresh hop aroma without adding a lot of the bitterness that is normally associated with hops. 
Apart from this hop aroma, you can also smell toffee, toast, and caramel. There are also flavor notes of grapefruit, flowers, and pine. Even though this beer has a lot going on, it isn't too bold in flavor and relatively easy to drink. 
Besides, it was the gold medal winner in the category of Amber Lager at the 2018 World Beer Cup. 
6. Great Lakes Elliot Ness
Next is another Gold Medal Winner at the World Beer Championships.
Great Lakes uses Mt. Hood hops to create their Amber Lage, which provides an earthy aroma, as well as four different kinds of malts: Caramel 30 and Cara 45 for a caramel flavor note, 2-row base malt for color, and Munich for its distinct, malty flavor. 
This beer is quite full of flavor for a lager but still has the same crisp finish. It is also relatively sweet, with notes of dark fruits and molasses. Still, it also has a nice bitterness. 
The ABV is quite high, at 6.1%. It also has 27 IBUs and 194 calories per 12 fl. oz. 
7. Sam Adams Boston Lager
Sam Adam's Boston Lager is another Vienna lager, which as mentioned, are very similar to amber lagers. This beer is brewed in Boston, as you would expect from the name, by the Samuel Adams Brewery. This brewery is named after Samuel Adams, founding father and brewer. 
The Hallertau Mittelfrüh and Tettnang Tettnanger Noble Hops from Bavaria give this beer a distinct bitterness and strong hoppy taste. The two-row pale malt blend and caramel 60 malts give it the caramel aroma. 
This beer is more complex and fuller-bodied than a standard American lager but still has a crisp flavor and dry finish. 
The ABV for this one is 5%. It also has 30 IBUs and 170 calories per 12 fl. oz. 
8. Heavy Seas Cutlass
Heavy Seas Cutlass is also an amber lager. It was initially introduced as a season beer, but its popularity left this brewery with no other choice but to make it available year-round. 
In fact, it is currently Cutlass' second best-selling beer. It won gold, silver, and bronze medals at the Great American Beer Festival from 2006 to 2010 and silver at the 2012 World Beer Cup.
Brewed in Maryland, US, this beer has a strong toasty flavor, along with a hint of sweetness provided by the Crystal malt. It also adds Vienna malt and Munich malt to create its amber color, aroma, and smoothness. The hops for this beer are Tettnang.
9. Abita Amber
The Abita Amber is another amber lager, this time with a light taste and even lighter smell. Perfect for those who aren't into the more complex flavors.  
This beer is brewed with pale and caramel malts, as well as Perle hops. This results in a hint of caramel and a smooth, malty beer with heavy carbonation.  
Abita Amber is brewed in New Orleans and was actually the first beer offered by The Abita Brewing Company. Nowadays, it is still their best seller. 
Per 12 fl. oz, this beer has 128 calories, as well as an ABV of 4.5% and 17 IBUs. 
10. Ballast Point Calico
The on this list of beers like Yuengling is Ballast Point Calico, which has won a staggering 39 awards ever since it was first introduced in 1996. Formerly known as Calico Copper Amber Ale, this is another American amber lager, brewed in California. 
This beer has a bold and more complex flavor, which is also reflected in its high IBUs of 51. It uses four types of malts and American hops, resulting in a red beer with notes of caramel and citrus. The flavor is quite hoppy, but this is not overpowering. It also has a relatively bitter aftertaste. 
The ABV for this beer is 5.5%. 
Sources: 
READ NEXT