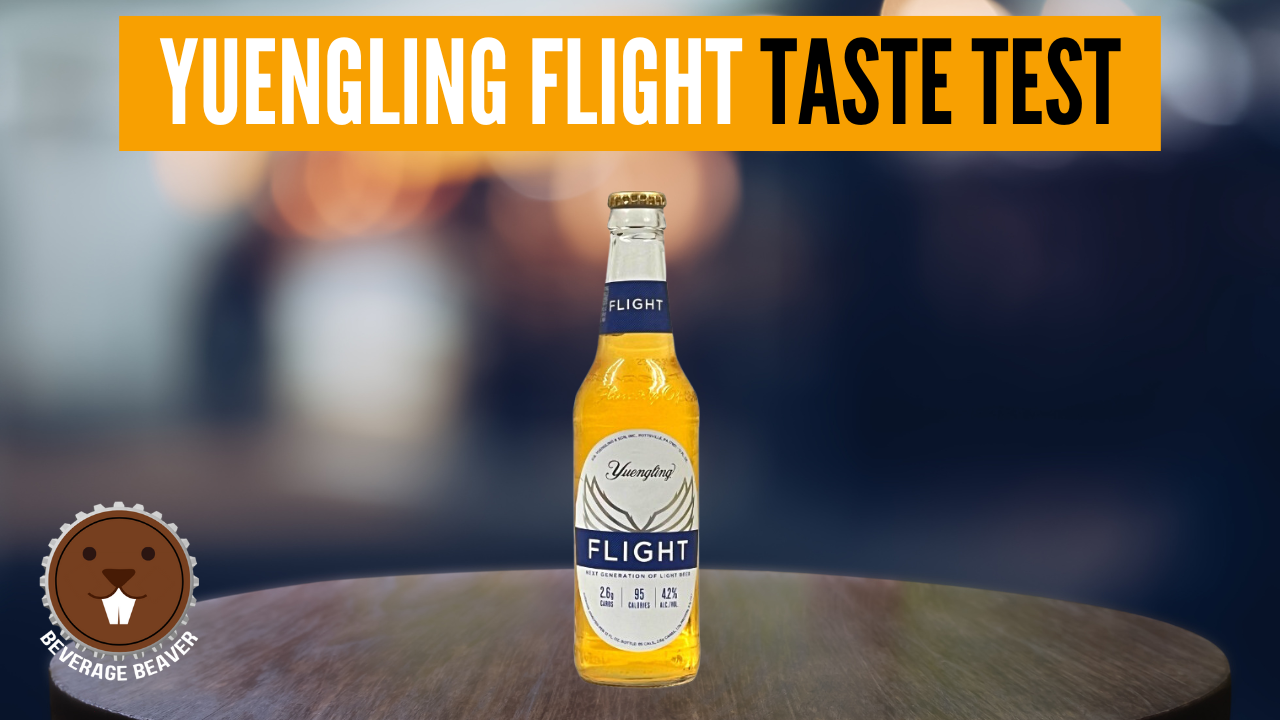 Yuengling's Flight is a light, refreshing lager that represents the brand's foray into the modern light-beer market. Yuengling Flight has a very light, refreshing flavor defined mostly by grain and corn character with a surprisingly hefty body for the style. 
Yuengling Flight's light, faintly corny sweetness is not unlike that of other mass-produced American light beers. It fits the category of American light adjunct lager, although its slightly more assertive body, when compared to other beers of the style, makes it stand out. This is an easy-drinking, low-calorie lager.
Yuengling Flight is an interesting concept for America's biggest craft brewery. It isn't always easy to find any of Yuengling's brands outside the brewery's northeastern stronghold. That's why, in this article, we're taking you on a tasting tour of Yuengling Flight. We'll look at the beer's taste, smell, appearance, and the brewing process Yuengling uses to develop its light lager. Looking to take wing with Yuengling Flight? Read on to find out more.
Yuengling Flight Flavor
Generally, beer drinkers tend to worry about their brew's flavor before anything else. Yuengling Flight is a low-calorie, low-carb beer, and most other beers of the style tend to be low in flavor. While Yuengling Flight lacks the bigger, bolder taste of the brewer's other, older offerings, it boasts considerably more character than most American light lagers.
The first sip of Yuengling Flight offers notes of lightly crackery malt. There's the typical corny sweetness that you'd expect from a light lager and even a touch of the roasted caramel that most of Yuengling's other offerings are famous for. The dominant note, however, is grain, which persists throughout the drinking experience. As the beer reaches the back of your palate, you'll notice the malt notes beginning to dissipate while the beer's sweetness remains, an interesting touch compared with the other watery, bready beers of the light lager style. 
At the very end, there's the faintest touch of grassy, hoppy bittersweet flavor. This offers a crisp, light flavor that lingers on the tongue for a few moments. Overall, this is a highly drinkable beer that offers a more complex, accessible drinking experience than virtually any other light lager. 
Although Yuengling Flight is a considerably more flavorsome beer than others in the American light lager category, it is not a particularly strongly flavored beer. The level of flavor in this beer is reminiscent of "infused" seltzer water. It's faint but noticeable. If you want a beer that is refreshing and very easy to drink but has enough beer character for you to feel like you're drinking beer, not water, Yuengling Flight might just be for you.
It's easy to picture oneself enjoying a cold, crisp Yuengling Flight after a huge workout or a long day of hiking. This definitely feels more like a refreshing, active person's beer than a sit-down-and-contemplate beer you'd have at a brewery.
Yuengling Flight Mouthfeel
Perhaps the most remarkable thing about the Yuengling Flight experience, compared with other beers of the style, is its assertive mouthfeel.
Sipping your glass of Yuengling Flight will offer a pleasantly robust amount of carbonation, with plenty of mineral water fizz and body. Of course, as a light lager, this beer isn't as round or robust as a stout or English ale. It's best to describe the beer's mouthfeel as heavy for a light lager or even a blonde or pale lager, but not compared to other styles of beer.
Yuengling's mouthfeel is still very drinkable and very refreshing. However, the relatively robust amount of carbonation and its light-medium body make it stand out and make for a more engaging drinking experience. 
Yuengling Flight Smell
Raising a glass of Yuengling Flight to your nose will present, as expected, some notes of grain and corn. Yuengling Flight is a touch sweeter on the nose than many other beers of the style. It's not overtly sugary or cloying, with perhaps a touch of fresh apple to balance out the grainy notes. Yuengling Flight's smell is not unlike a freshly opened package of sweetened cornflakes, offering a glimpse into the beer's flavor palate.
Yuengling Flight Appearance
Yuengling Flight, poured into a beer glass, pours a clear, brassy golden beer with plenty of fizz and bounce, topped by about a finger's width of sudsy white foam.
The head quickly dissipates, leaving plenty of fireworks bouncing around the glass. Overall, Yuengling Flight looks like what it is: a light, attractive, very drinkable lager.
Yuengling Flight also departs heavily from Yuengling's traditional branding when it comes to the beer's packaging. Veering away from the old-fashioned illustrations and emphasis on the brand's status as "America's oldest brewery", Yuengling Flight instead adopts a forward-focused approach. The beer's label is a minimalist combination of white and dark blue, with a winged logo evoking Yuengling's classic eagle motif. The beer's label bears the slogan "Next Generation of Light Beer". The labeling represents a clear pivot towards cutting-edge innovation rather than heritage, a remarkable about-face for a brewery that has long prided itself on its proud American history. 
At a time when even the American macro-brewing giants are offering "crafty" brews and IPAs, the country's oldest, biggest craft brewer is producing their version of a macro light lager. The bold, minimalist, efficient branding of this beer suggests that it aims to compete directly with Coors and Michelob's outdoorsy, active core market. 
Yuengling Flight Alcohol Percentage and Calories
Yuengling Flight has a full-strength ABV of 4.2% and only 95 calories in each 12oz bottle. This beer offers 2.6g of carbs, a remarkably low amount for a full-strength beer.
Why Does Yuengling Flight Taste Like This?
Yuengling Flight marks a clear attempt on Yuengling's part to compete with the American macro brewers' ultra-light beer market. There are a few ultra-light beers on the market, such as Michelob Ultra and Corona Premier. These beers emphasize an outdoorsy, active lifestyle in their marketing, and Yuengling Flight leans heavily into this. Yuengling Flight's brand ambassadors, for example, include American soccer star, Rose Lavelle. The beer's press statement upon launch declared Yuengling Flight to be "an upscale refreshment brand that fits within the active lifestyles of today's consumers".
Yuengling Flight, as a lager, is bottom-fermented. It contains American six-row and two-row barley malt paired with Cluster hops and Cascade hops. The malt blend is responsible for the beer's balanced, sweet base flavor. Cascade hops are usually responsible for the floral, citrusy aromas in a beer. Since Yuengling Flight is not particularly citrusy or hoppy, one can surmise that it is not brewed with a large complement of Cascade hops but just enough to balance out the beer's cereal notes.
Yuengling Flight History
Yuengling, established in 1829 as Eagle Brewing, is the United States' oldest brewery. Remarkably, the brewery remains owned by the Yuengling family to this day, as tradition dictates that the heir to the brewing empire purchase Yuengling from the previous owner upon the latter's retirement.
Yuengling has endured for almost two centuries thanks to its ability to easily pivot to address the needs of its consumers. During Prohibition, Yuengling survived by producing zero-alcohol "near beer" and ice cream. 
Yuengling Flight was launched in 2020 to cater to an increasingly health-conscious market and expand into territories traditionally dominated by the MillerCoors and Anheuser-Busch brewing giants. The continued success of Yuengling Flight indicates that this attempt to bring light beer drinkers into the brand's traditionalist old-school family was successful.
What Do Other People Think Of Yuengling Flight?
It's always worth looking at how others view a brew. Yuengling Flight has only been on the market since 2020 but enjoys distribution throughout all of Yuengling's 22-state footprint. As a craft brewer's attempt to cater to widespread American light beer drinkers, Yuengling Flight should appeal to the everyday drinker. We looked across the Internet for Yuengling Flight reviews, weighted the scores, and determined an average score for this American light lager.
| | |
| --- | --- |
| Platform | Yuengling Flight |
| BeerAdvocate | 6.5 |
| Untappd | 6.34 |
| RateBeer | 5.12 |
| Drizly | 9.4 |
| Influenster | 10 |
| Average Score | 7.47 |
Yuengling Flight enjoys some very positive reviews across the board, with Influenster giving it an impressive ten out of ten, albeit from only two reviews.
Most reviews praised Yuengling Flight's refreshing flavor and relatively assertive character for the style. They tended to focus on Yuengling Flight's present flavor and notable body as positive traits, particularly when compared to other light lagers. Negative reviews, however, focused on the beer's overall lack of flavor and character when compared to Yuengling's other offerings. Some also disparagingly compared Yuengling Flight to the major American macro lagers.
Here's what one Beeradvocate reviewer had to say about their Yuengling Flight experience:
"Pours a standard translucent gold with a fluffy white head that dissipates in a few seconds. This one smells like actual barley malt and has a slightly floral hop smell to it. The taste is somewhat fuller than an average light beer with a nice barely presence and little adjunct sweetness. It's got a slightly crisp and bitter finish to keep it from being too sweet. It's very carbonated and very refreshing. Overall probably the best light lager I've ever had."

Source
READ NEXT