Shock Top is a massively successful American-made beer based on the proud tradition of Belgian White. Although initially intended as a seasonal offering, it proved very popular and is now available year-round. It has a summery, citrus-heavy flavor, making it a favorite among beer lovers across the USA.
Shock Top is a Belgian witbier made by Annheuser-Busch in the USA. It has a somewhat bready, fruity flavor and a cloudy, pale color, balanced by a citric sourness and a very drinkable texture. Shock Top is perfect for a hot summer's day when you want a beer with a little more flavor than the other classic American offerings from Annheuser-Busch.
Of course, that's far from the whole story. In this article, we'll walk you through what it's like to drink Shock Top, including its flavor, mouthfeel, smell, and the distinctive appearance. 
Flavor
Shock Top has a crisp, citrus-heavy flavor typical of Belgian white-style beers. This comes courtesy of including orange, lemon, and lime peels with some coriander, giving it a refreshing, distinctive flavor profile. It's very different from many of the other Annheuser-Busch offerings, perhaps a concession on the part of the American brewing giant to changing tastes among beer drinkers.
The taste of a Shock Top starts with a malty sweetness that quickly gives way to the distinctive bright, fresh taste of coriander. This flavor is best described as zesty, and the beer's overall flavor is sweet and fruity. It has plenty of juicy orange flavor, neatly balanced by lemony bitterness. With an earthy hop finish and a pleasantly citric acidity, this beer doesn't overstay its welcome on the palate. 
Shock Top is moderately bitter. The bitter character is closer to that of lemon than typical hoppy bitterness, measuring in at an IBU of 10. Although the beer has a crisp forward palate, the finish is far sweeter than it is crisp. It has a clean, ale-like flavor with plenty of citrus kick. 
This is a highly drinkable beer worth enjoying on any hot, humid day. In Europe, Belgian whites are often consumed with a slice of orange or lemon in the drink, and doing so only enhances the serious citrus factor in this beer's palate.
Mouthfeel
Shock Top is quite pleasantly carbonated, and it's got a bit of slickness to its mouthfeel. This beer is medium-bodied and very drinkable. Wheat beers are a typical central European summer drink. As you'd expect if you've ever been out drinking with Germans or Belgians, this is a beer that you can comfortably drink in abundance. 
The medium body of this beer beautifully complements its bright, fresh flavor and makes it easy to enjoy on a hot day.
Smell
Surprisingly, considering how forward this beer's palate is, it lacks an intense nose or overwhelming aroma. 
Raising the glass to your nose will reveal a slight malty sweetness and faint notes of peppery citrus. It smells like someone is cutting fresh coriander a few meters away from you. However, it certainly has more herb and spice than wheat, and it hints at the flavors to come.
Appearance
The defining factor of Belgian witbier is their appearance. 
The Belgian White takes its name from its cloudy, hazy, whitened appearance. This is due to the beer's suspended yeast and wheat proteins, which become opaque when cold. As these beers are best served cold, they have a cloudy white appearance rather than the pale straw color of typical American beers. Shock Top has a distinctive orange hue and a distinct Belgian white opaque character. The appearance of this beer correlates with its juicy, citrusy flavor, and it looks great in a good wheat beer glass. 
Traditionally, Belgian witbier would contain some oats, and the barley would not be kilned. Instead, it was left to dry in the attic, where the wind could blow past, further adding to the light color of this beer.
Shock Top's SRM (Standard Reference Method, the means by which beer darkness is measured) is 3, smack bang in the middle of the recommended range of 2-4 for Belgian witbier. This beer, in the bottle, is a pale off-white and orange color with a pleasantly cloudy appearance, and it's nicely hazy to look at, especially when cold.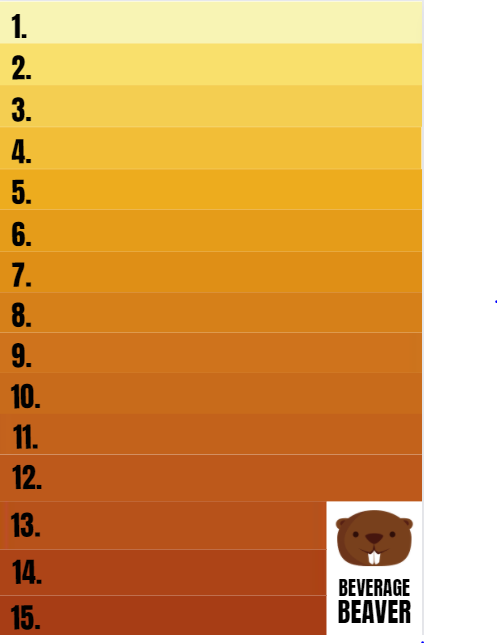 This beer pours a very minimal head, despite its somewhat fizzy taste. The head is white and quickly dissipates. 
Its packaging also very much hints at the beer's intended method of consumption, with an orange slice in sunglasses almost screaming at you to enjoy this beer in the summer.
Shock Top's mascot actually has a name and a Twitter account! Wedgehead, the mohawked orange slice on every bottle of Shock Top, also starred in a Super Bowl commercial back in 2016. 
Why Does Shock Top Taste Like This?
Shock Top has its distinctively citrussy flavor thanks to the inclusion of citrus peels in the brewing process. 
Annheuser-Busch describes Shock Top as a spiced Belgian-style wheat ale "brewed with real orange, lemon, and lime peels for a smooth, citrusy finish."
Shock Top is brewed using wheat malt, two-row barley, orange, lemon, lime peel, coriander, and Cascade and Willamette hops. Coriander helps give Shock Top its peppery, zesty flavor. 
Shock Top, as an ale, is brewed using a particular type of top-fermenting yeast (Saccharomyces cerevisiae) at warm temperatures (60˚–70˚F). Its distinctive flavor and texture are typical of other Belgian-style wheat beers, and this brewing process is responsible for its lively flavor compared to light lagers.
Shock Top Brewing History & Process
Shock Top wasn't always called Shock Top. Once upon a time, it entered the market as a seasonal offering named Spring Heat Spiced Wheat back in 2006. At the time, it won gold and bronze medals in the Belgian Wit (White) category at the 2006 and 2007 North American Beer Awards. 
Because this beer was so successful, Annheuser-Busch decided to make it available all year round, allowing Americans to enjoy a delicious Belgian white any time of year. Shock Top competes directly with MillerCoors' Belgian White, Blue Moon.
What Do Other People Think?
It's always worth looking at how others view a brew. Shock Top's initial burst of success saw it become very popular very quickly, so we checked out a few reviews across the internet to see what other drinkers think of this witbier. Scores are rated on a scale of 1-5.
| | |
| --- | --- |
| Platform | Shock Top |
| BeerAdvocate | 2.96 |
| Untappd | 3.3 |
| RateBeer | 2.56 |
| Drizly | 4.7 |
| Influenster | 4.2 |
| Average Score | 3.54 |
Shock Top has a broad range of scores, from the very high rating of 9.4 at Drizly to Ratebeer's more measured 5.12. Most reviewers commented on the beer's pleasant flavor profile, but some preferred more traditional Belgian beers such as Hoegaarden. 
One Beeradvocate reviewer had this to say about their Shock Top experience:
"Very drinkable, quaffable beer. Nice head, deep amber/pale orange color. No note of hops nose on it. Smell is orangey. First drink was surprising – in that I was expecting a belgian yeast, but it wasn't there. Also lacking was the coriander – though it has a prominent orange juice taste.

Goes down easy, clean, not much of an after taste. No discernable hop bitterness or hop citrus hit. I was missing the belgian yeast taste and at least a bit of hops nose to it."

– source
Is All Shock Top Belgian White?
Shock Top expanded into several other flavors and areas after its initial success. There are different citrus-heavy varieties, including a red grapefruit Ruby Fresh flavor, tropical mandarin, lemon shandy, and a low-calorie, low-carb light wheat variety named Shock Top Zest. There was even a pretzel wheat flavor at one point.
Shock Top Brand Image
Shock Top is branded as a young, fun, summery drink. The brand's commitment to this image is perhaps epitomized by its launch of an adult summer camp, Camp No Counselors, which launched in 2016 to offer summer getaways in upstate New York and outside Austin, Miami, and Los Angeles. Camp No Counselors effectively offered the classic American lakeside summer camp experience coupled with frequent boozy twists and plenty of Shock Top offerings.
Annheuser-Busch, with Shock Top, is clearly targeting a younger demographic whose tastes have leaned away from their classic American lager offerings in recent years. Over the past decade, with the craft beer boom, younger drinkers have tilted towards more adventurous, flavorful beers, and Shock Top seems to be Annheuser-Busch's answer to market demand.
With that in mind, its branding has leaned away from the stalwart red, white and blue packaging of Bud and Natural Light and towards a lively, illustrated mascot. This beer is aimed squarely at fun-loving younger drinkers looking for something with zest and life to it for a hot summer's day. While this may seem like a surprising move from the American brewing giant, Shock Top has managed to maintain its success over the years.
READ NEXT