Bud Light is a premium light lager known for its great drinkability. Though its popularity first started in the US, Bud Light has grown to become the number 1 light beer in the world. But where is all this beer made?
All Bud Light for the American market is brewed in one of Budweiser's 12 US locations in St. Louis, Los Angeles, Williamsburg, Baldwinsville, Cartersville, Columbus, Fairfield, Fort Collins, Houston, Jacksonville, Merrimack, and Newark. However, Bud Light's breweries are spread across several continents.
However, with its long history of mergers and acquisitions, this certainly does not tell Bud Light's full story. Below, we'll let you know more about where the company was founded, the many different breweries, and who currently owns Bud Light.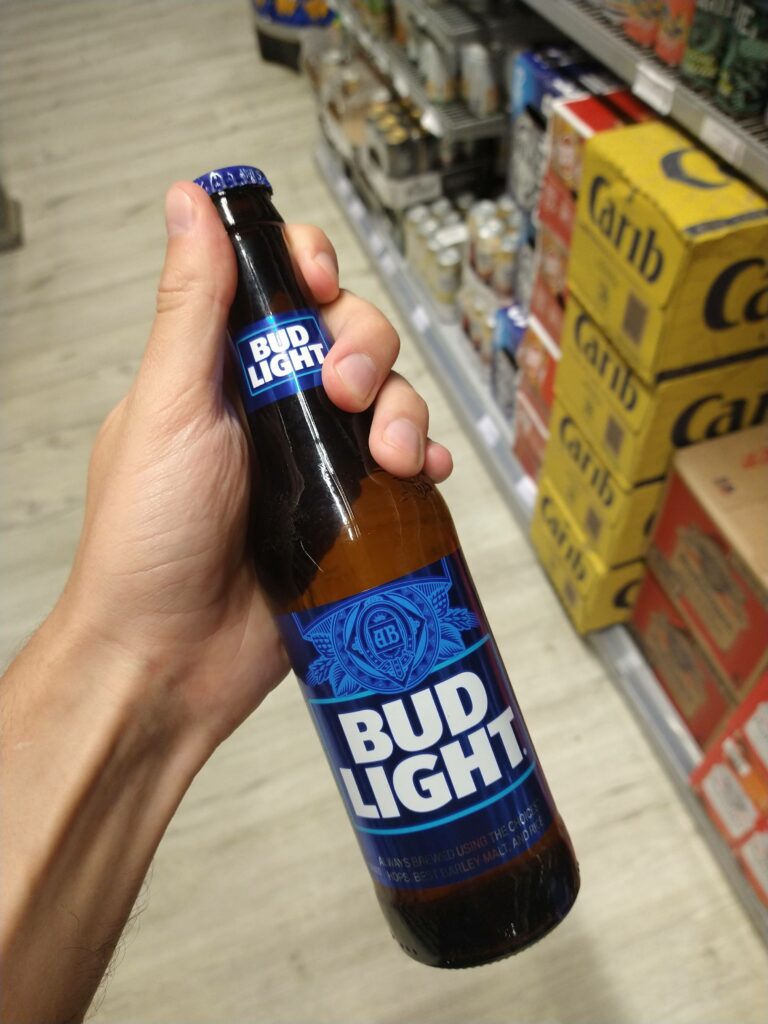 Where is Bud Light brewed in the US?
We have to start with the US to discuss where Bud Light is brewed, as this is where it all began for this beer. Anheuser-Busch, the brewing company to create Budweiser and later Bud Light, set up its first brewery in St. Louis, Missouri.
With Anheuser-Busch's fast growth and acquisitions, it was clear they needed to expand their brewing capacity. As a result, 11 additional breweries were built all across the US. In 2019, the combined efforts of these breweries resulted in 27.2 million barrels of Bud Light being shipped across the US.
As you might know, Bud Light is one of Budweiser's core brands. As a result, it is brewed in every brewery:
St. Louis, MO (Flagship Brewery, opened in 1852)
Los Angeles, CA (Opened in 1954)
Williamsburg, VA (Opened in 1972)
Baldwinsville, NY (Opened in 1983)
Cartersville, GA (Opened in 1993)
Columbus, OH (Opened in 1968)
Fairfield, CA (Opened in 1976)
Fort Collins, Co (Opened in 1988)
Houston, TX (Opened in 1966)
Jacksonville, FL (Opened in 1969)
Merrimack, NH (opened in 1970)
Newark, NJ (Opened in 1951)
The St. Louis brewery is iconic for the Budweiser brand, not only because it was the first brewery but also because of its spectacular building; any beer enthusiast would want to have a look inside this building. However, if you can't make it to St. Louis, this video should give you a good impression of what it's like inside the flagship brewery.
Though the flagship brewery is an essential part of Bud Light's history, the Los Angeles brewery was one of the first to brew Bud Light when it was launched in 1982. The Williamsburg brewery also deserves a special mention, as it was the first brewery to brew the flavored Bud Light Orange.
Though Anheuser-Busch has now merged with several companies to make Ab InBev, the all-American image of Bud Light is still accurate: all Bud Light that is sold in the US is made in the US.
Where is Bud Light Made In Canada?
If you want to enjoy Bud Light while not in the US, this is still possible. You won't receive a can from one of their US breweries, though. The Bud Light sold in Canada is not imported but actually produced within Canada. The cans are filled with beer brewed at the Labatt Breweries, in one of their six breweries. These can be found in:
Creston, British Columbia
Edmonton, Alberta
London, Ontario
Montreal, Québec
Halifax, Nova Scotia
St. John's, Newfoundland and Labrador
The choice to have Bud Light be brewed by Labatt only made sense: Anheuser-Busch InBev acquired the company in 1995.
Where is Bud Light Made In The UK?
Budweiser currently has three breweries for the UK market, located in Magor, Samlesbury, and Enfield. The local headquarters for the UK is located in Central London.
The brewery in Magor, South Wales, has been operational since 1979, whereas the Samlesbury, Lancashire location was established in 1972. The Magor plan currently provides the UK market with Bud Light, Budweiser, and Stella Artois.
The Enfield plant is the most recent addition to the UK Bud Light Breweries, as it opened its doors in 2017. This additional was necessary as the brewery creates 1 million pints of beer each week.
Where Was Bud Light Founded?
Anheuser-Busch, the brewing company that launched Bud Light, was founded in St. Louis, Missouri, by Adolphus Busch and his father-in-law, Eberhard Anheuser. Anheuser initially owned the company, but when Adolphus entered the company, he started to build the now well-known brand.
Anheuser-Busch's success is primarily a result of the company's innovation. A great example is their use of pasteurization, essentially allowing the beer to travel long distances without going bad.
Bud Light was first launched in 1982 when the American market asked for a beer with fewer calories and less alcohol. The LA brewery was one of the first to produce the new beer.
Where is Bud Light headquarters?
Budweiser's (and thus Bud Light's) headquarters are currently located where they started: St. Louis, Missouri. However, Anheuser-Busch merged with AmBev in 2016, with its headquarters in Leuven, Belgium.
However, the company has several offices across many continents, including South America, Asia, Africa, and Europe.
Who Owns Budweiser & Bud Light Now?
With its many mergers and acquisitions, it is not surprising many have lost track of which company owns Budweiser and Bud Light. Currently, they are owned by Anheuser-Busch InBev, often shortened to AB InBev. This results from 3 brewing companies merging: Anheuser-Busch, Interbrew, and AmBev.
As can be read above, Anheuser-Busch was the company to found Budweiser, and thus Bud Light, in 1850. As it was founded in St. Louis, it is an American brand established by Germans Adolphus Busch and Eberhard Anheuser.
On the other hand, Interbrew was formed in 1987, when Brouwerij Artois (known from Stella Artois beer) merged with Piedboeuf, both Belgian. Later, they also acquired Labatt (Canadian), Bass and Whitbread (British), Diebels (German), and Beck's & Co. (German), respectively.
AmBev, also known as Companhia de Bebidas das Américas was a Brazilian brewing company whose name translates to Americas' Beverage Company, thus creating the shortened version of AmBev. It was founded in 1999 when brewing companies Brahma and Antarctica merged.
In 2004 AmBev, the world's fifth-largest brewer, merged with Interbrew, the world's third-largest brewer, to make InBev. In 2016 AmBev and Anheuser-busch merged, thus making AB InBev.
Clearly, AB InBev is a brewing company created through the efforts of several countries. However, Bud Light is still marketed as the All American Beer. Rightly so, as all Bud Light sold in The US is still made in the US.
Sources
READ NEXT