Miller Lite and Michelob Ultra are both popular American light lagers. Both Miller Lite and Michelob Ultra started in the American market, and both still have a strong foothold there.  Both Miller Lite and Michelob Ultra have expanded beyond their native shores of North America and are now stocked on shelves across the world. Let's look at what Miller Lite and Michelob Ultra have in common and what sets them apart from each other.
Miller Lite and Michelob Ultra are American Light Lagers. They are both low in alcohol content and IBU. Miller Lite and Michelob Ultra are easy to drink and are a light golden color. 
We will take a deep dive into what characteristics Miller Lite and Michelob Ultra have in common and what sets them apart. Please continue reading to learn more about their flavor, mouthfeel, smell, and appearance. We'll also look at their history and any unique qualities they may have.
History
Let's first look back at both Miller Lite and Michelob Ultra histories.
Miller Lite was created in 1975 by the Miller Brewing Company. Miller Lite has the distinction of being the original light beer. To this day, Miller Lite was created using the same strain of yeast that Fredrick Miller used in 1855.
Michelob Ultra was created in 2002 to meet the demands of the public. Athletes, in particular, were craving a beer that was light & low in any way. They wanted low calories, low carbs, a light taste, and a refreshing gulp to drink after a run or workout. Michelob Ultra was born to answer the call.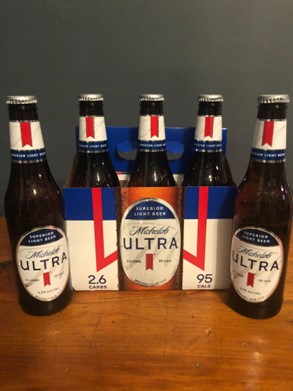 Brewing & Classification Process
Let's first talk about the brewing and classification process of both Miller Lite and Michelob Ultra. Both beers are fermented in colder temperatures (35˚–50˚F). The yeast is not seen during the fermentation process and is thus called bottom-fermenting yeast. Both beers have a low IBU (International Bitterness Units). Miller Lite at 12 and Michelob Ultra a 14.
Both Miller Lite and Michelob Ultra have an SRM (Standard Reference Method)  of 2-3. This scale represents the intensity of color for beer. Miller Lite and Michelob Ultra both have an ABV (alcohol by volume) of 4.2%. Their low IBU, low SRM, and ABV all determine the classification of both Miller Lite and Michelob Ultra as American Light Lagers.
The Pilsners
Miller Lite is further classified in the American Lager category as a Pilsners beer. The addition of extra hops in the brewing process leads to a hoppier, spicey, and overall robust taste compared to other types of American Lager beers.
Flavor
Next, let's discuss flavor. Miller Lite and Michelob Ultra have different and distinct flavor profiles. Both offer drinkers a crisp, light, and refreshing taste. They just deliver this taste in very different ways.
Miller Lite is specifically designed for its taste. Miller Lite offers drinkers a very defined yet incredibly light flavor. This is largely thanks to the careful selection of ingredients used in its brewing process. Miller Lite goes to great lengths to provide a spectacularly light yet defined flavor to its drinkers.
Miller Lite uses a 21-day brewing process that includes the purest of water, malted barley, the same yeast that was carried from Germany by its founder in the 1850s, the Saaz and Galena hops, and hops extract.
Michelob Ultra is brewed with the perfect balance of Herkules hops and wholesome grains, producing a light citrus taste.
Mouthfeel
Next, let's discuss Miller Lite and Michelob Ultra mouthfeel. Miller Lite and Michelob Ultra have similarities in this category, as well as significant differences. 
 Miller Lite and Michelob Ultra offer drinkers a smooth, pleasant, and easy mouthfeel. Neither Miller Lite nor Michelob Ultra will leave drinkers with a strong aftertaste.
While Miller Lite is in no way a harsh beer, drinkers will notice a slight tingle and subtly spicy flavor in their mouths. This tingle and taste come from the extra amounts of hops that are added in the Miller Lite brewing process. The light hoppy mouthfeel and ease of drinkability make Miller Lite a go-to choice for those looking to kick back, enjoy themselves, and for new or lightweight drinkers.
Michelob Ultra offers drinkers a more refreshing-based mouthfeel. Michelob Ultra is brewed using handpicked grains, top-notch barley malt,  Herkules hops, and only the purest of cultured yeast. Michelob Ultra offers a high carbonated, crisp, smooth finish. 
Smell
Next, let's move on to Smell. Miller Lite and Michelob Ultra both believe in the importance of a truly compelling aroma. Both companies recognize the smell as the starting point in the enjoyment of a good beer.
 Miller Lite is extremely selective when choosing ingredients for its brewing process. This allows for a controlled flavor and a distinct aroma profile. Miller Lite offers a medium body malt and hops aroma. This is what distinctly separates Miller Lite from Michelob Ultra and other American Light Lagers.
Michelob Ultra is also selective with its selection of ingredients. Michelob Ultra offers drinkers a light citrus aroma that includes a hint of tang.
Appearance
Finally, let's look at Miller Lite and Michelob Ultra's appearances. The intensity of the color of the beer is based on a beer's SRM. The SRM scale ranges from 2 to 80 and is measured by passing a beam of light through .39 (1cm) of beer and measuring the attenuation of the light. Miller Lite and Michelob Ultra come in at a 2-3 on the SRM scale. This accounts for the transparency and light yellow color of both Miller Lite and Michelob Ultra.
What Do Other People Think About Both Beers?
Another thing we definitely can't forget about is to properly take into account the opinion of the general public when it comes to both beers. For this, we gathered data from several beer websites that allow people to review beers. The scores of each beer and each website are shown below (on a scale of 0 – 10).
| | | |
| --- | --- | --- |
| Platform | Miller Lite | Michelob Ultra |
| Beeradvocate | 5.4 | 4.8 |
| Ratebeer | 2.9 | 2.8 |
| Untappd | 5 | 5 |
| Influenster | 8.2 | 9 |
| Average Score | 5.4 | 5.4 |
What becomes clear here immediately is that both beers are liked equally as much when we look at the population as a whole. However, the way they achieve those scores (and the crowds that tend to like them) is completely different.
For example, the first three websites are created for experienced beer drinkers. Here we see that especially the people on Beeradvocate tend to like Miller Lite much more than Michelob Ultra. This is likely because Miller Lite has a hoppier taste. The general consensus of this crowd is as follows:
For 100 calories this is a solid choice relative to other options in terms of light beer! Although it's only at 4.2% it still has enough body in the overall flavor. This beer is always a good fallback when looking for something that isn't on the pricier side and it is a good choice as a volume beer
On the other hand, Michelob Ultra is preferred by the people on Influenster. This is logical because this website typically attracts inexperienced beer drinkers that tend to favor a beer that's lighter and not as hoppy, as described by this review on the platform:
Favorite beer, always affordable and can always find it in stock. Gets the job done. Great for summer nights or winter blizzards. Always smooth compared to some other beers, will definitely buy again.
So, in general it seems that Miller Lite is enjoyed by a crowd that's used to drinking beers that pack a punch, whereas Michelob Ultra is the best beer for people that aren't typical beer drinkers but do prefer one from time to time.
Michelob Ultra Fun Facts:
Varieties
Michelob Ultra is known as one of the fastest-growing beer companies in the United States. Since its creation, Michelob Ultra, has grown to include Michelob Ultra Pure Gold, a morally superior light beer made from organic grains; the gluten-reduced Amber Max, another light beer with a richer taste; and Michelob Ultra Infusions, with added fruit flavors. Michelob Ultra's newest addition tipped into the ever-popular world of hard-seltzers.
Professionally Sports Indorsed
Michelob Ultra has seen its fair share of super sports stars. Michelob Ultra capitalized on society's rising health and fitness trends more than any other beer. Michelob Ultra commercials included Lance Armstrong in 2010  and three-time Olympic gold medalist beach volleyball star Kerri Walsh Jennings in 2019.
Keto-Friendly
One of the best features of Michelob Ultra is its low-carb count. Michelob Ultra can be classified as keto-friendly. Women's Health reported the following in March 2019, "Michelob Ultra is making dreams come true for keto dieters," It referred to Michelob Ultra Infusions, a new line of fruit-flavored light lager. Women's Health's Marissa Gainsburg also referred to Michelob Ultra as a "beloved keto-friendly, low-calorie light beer.".
Miller Lite vs Michelob Ultra
Miller Lite and Michelob Ultra are both respectable American Light Lagers. Both are easy to drink with a smooth and crisp mouthfeel. I prefer Michelob Ultra as it offers a better refreshing taste after any activity and is lower in calories and carbs. However both Miller Lite and Michelob Ultra are good American Light Lagers.
Sources
READ NEXT